A hydraulic system is a device in which a small applied force can give rise to a larger force.
The principle in the hydraulic system is widely used in jacks, vehicle brake systems, hydraulic presses and heavy machinery and a few more examples which you can find (for yourself)
Hyraulic Jacks
Hydraulic jacks are used to lift a heavy load such as when changing a car tyre. When the handle is pressed down, a valve closes and the small piston forces hydraulic fluid through another valve to the larger cylinder. The pressure transmitted results in a large force on the load.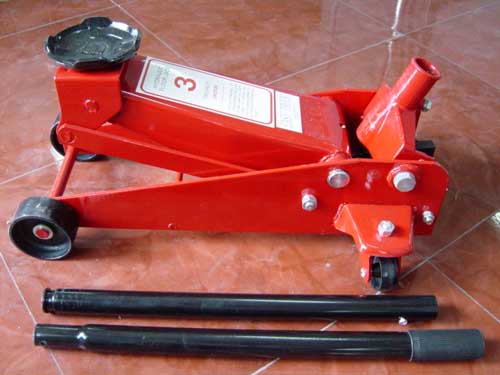 When the handle is raised, valve B closes and hydraulic fluid flows from the buffer tank through valve A into the small cylinder. The handle is moved up and down repeatedly until the load is sufficiently lifted up.
The large piston can be lowered at the end by opening the release valve to allow all the hydraulic fluid to flow back into the buffer tank.
Hydraulic Brakes
Hydraulic brakes are used in cars, lorries and motorcycles.
In a hydraulic brake system, a liquid, known as brake fluid,
is used to transmit pressure from the brake pedal to all the wheels of the vehicle.
When the brake pedal is pressed, the piston of the control cylinder applies a pressure on the brake fluid and this pressure is transmitted, via a system of pipes, to each cylinder at the wheels.
The cylinder at the wheels cause a pair of pistons to push a pair of friction pads to press against the surface of the brake discs or brake drums. The frictional forces between these brake components cause the vehicle to slow down and stop.
When the brake pedal is released, a spring restores the brake discs to their original positions.
Hydraulic Pumps
Hydraulic pumps are used to raise cars in a motor workshop.
The machine is equipped with a small cylinder connected to a large cylinder. Both cylinders are filled with oil.
Compressed air is introduced into the small cylinder in which the compressed air exerts a pressure on the surface of the oil.
This pressure is transmitted by the oil to the large cylinder where the pressure acts on a large piston to produce a force which is large enough to lift a car.
Hope this helps!